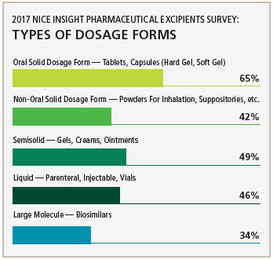 Excipients play a key role in helping pharmaceutical manufacturers serve patients better through improved compliance and efficacy of treatment. They also help reduce developmental costs and provide opportunities to differentiate products through new modes of drug delivery.
Experts identify several trends driving excipient demand: solubility and bioavailability challenges, as well as the desire to increase the lifecycle of a drug, improve manufacturing efficiency and address the growing bioequivalence market.
PM1706 Insights Chart1Development of new treatments for chronic diseases, increased access to medication through generic drug production, increased research and development spending, growing competition, and new technologies are driving these trends, says Bosh Chattopadhyay, business director, BASF Pharma Solutions.
Trends in Excipient Demand
Pharma manufacturers are seeking out innovative excipients that address bioequivalence development and solubility challenges, while enhancing formulation
By Nigel Walker, Managing Director, That's Nice LLC/Nice Insight
Jun 02, 2017
Trends in Excipient Demand.pdf
Adobe Acrobat Document
321.2 KB